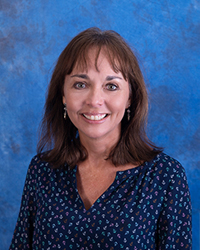 Jodi Young
Lower School Principal
jyoung@stjohnsacademy.com
Mrs. Young joined St. John's Academy in 1999 and taught for three years before moving with her husband to New England to start three churches. After moving back to the area this year, she joined the staff as the fifth grade teacher.
Mrs. Young earned a Masters in Education from Regent University, a Bachelors in Rehabilitation Services from Florida State University, and maintains Professional Educator's Certificates with the States of Florida and New Hampshire.
She taught second through 6th grade for twelve years and served as Provost for a ministry training school in New England. In addition, Mrs. Young has written several children's curriculums for churches that have gone around the world from Asia to South Africa.
Mrs. Young and her husband are avid travelers and have had the opportunity to travel the world visiting five of the seven continents, but Israel will always be her favorite place to travel because it holds such a special place in her heart.