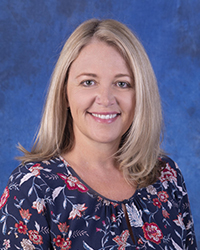 Hallie Mitchell
Yearbook Administrator
hmitchell0417@gmail.com
Hallie Mitchell graduated from the University of Central Florida in 1997 with a B.A. Degree in Communications. After starting her family, Hallie found inspiration in photographing her children and began taking classes to further her knowledge in Photography. The Mitchell's have been a part of the St. John's Academy family for 13 years, and Hallie has been the Yearbook Editor for 10 years. When she is not at St. John's Academy, you might find her around town shooting real estate photography, out on the beach taking family photos, on the local preschool playgrounds photographing children, or cheering on her 2 kids – Sam and McKenna on the soccer fields.